Although it may have seemed like a quiet summer on the Atomic Bronco page after the release of Nightflowers in May, I've been busy at work writing a ton of new music of all genres and have a few announcements to make today! 
Firstly, I'm thrilled to announce that the remix album for Nightflowers will be dropping September 29th! Four tracks from the original release have been remixed by brand new artist Midnight Croquet, including some true deep house bangers!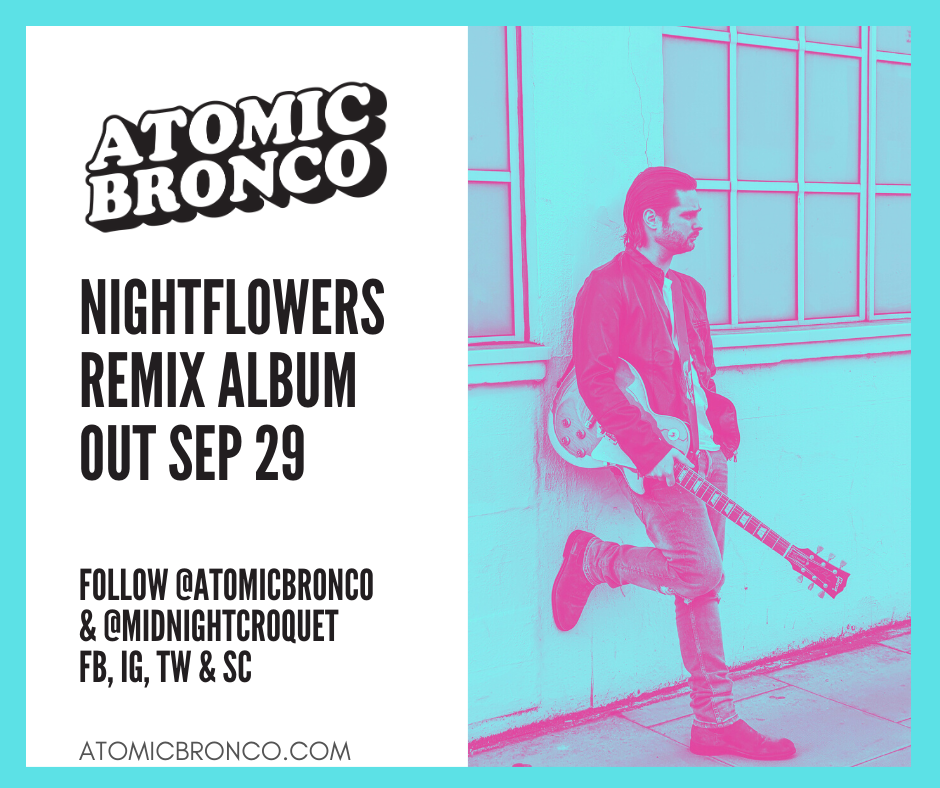 Now you may be asking how I found a brand-new artist to remix my songs, which leads me to my next announcement… 
Midnight Croquet is my new house/electronic music alter ego, and I just released my first track, Tyler Durden, on Soundcloud and YouTube. I've been making house music since college, and I'm very excited announce this project which will also be releasing music under periodically. In addition to this release, and the remix EP, I have an upcoming single, Even Angels, which I plan to release in Late October. Be sure to follow me on Twitter, Facebook, Soundcloud, and Instagram at @MidnightCroquet to keep up to date! 
Just in case you think I'm pivoting solely to electronic music, never fear, because my third and fourth announcements are both Atomic Bronco releases. Immediately after I released Nightflowers, I set to writing more songs, and after about 30 demo songs, I've started recording my second album, along with an EP that will precede it. I expect to have the EP done in late 2020, and the album should be expected spring 2021! 
I'm so excited to share all this new music with you! 
You can find the link to Tyler Durden by Midnight Croquet here